Blog, meet Levi! If you follow me on Instagram you've already seen the news, we adopted a puppy! Levi is a pitbull mix puppy that we adopted from our local Humane Society. We were told he was 4 months old, but our vet thinks he's closer to 6 months old. He's an absolute sweetheart and we are so so so excited to have him here with us. The process of getting Levi was a long one, but we had 2 days warning that he was coming home, so er had to scramble to get all his puppy essentials in time!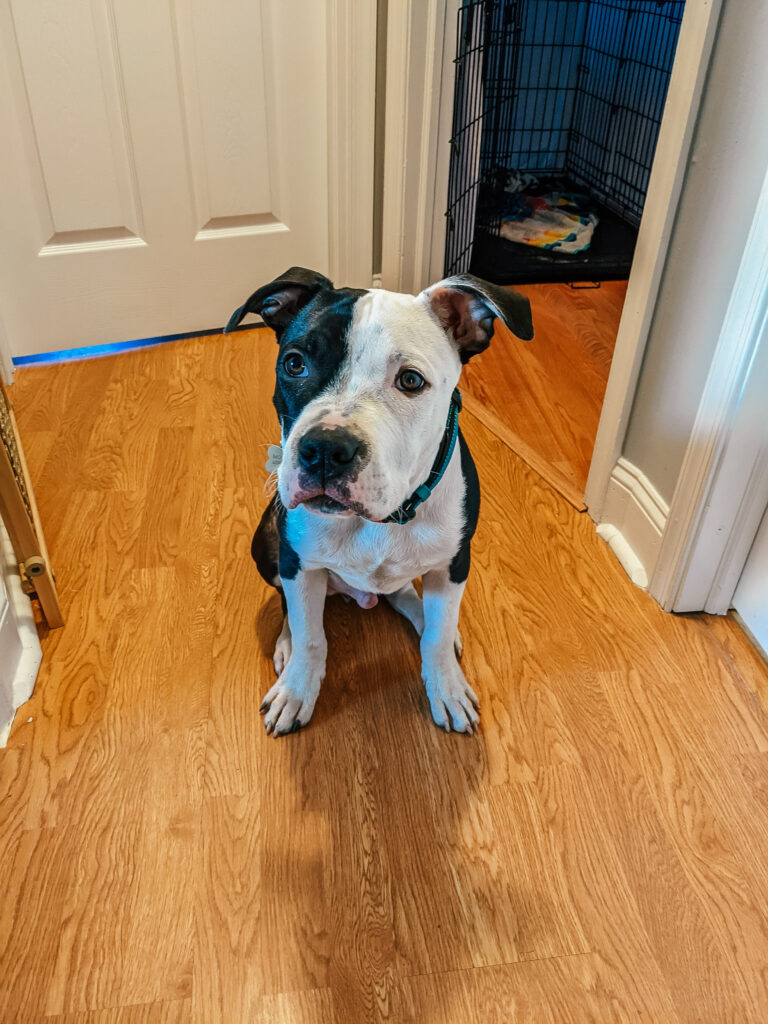 How We Got Levi
We have been reaching out to rescues and shelters about dogs for adoption for a couple of months to no avail. Mostly rejections, a few ghosts, and one straight up asked for our marriage certificate (like, what??). Finally, I sent one email I swore would be the last application to the local Humane Society. We got an email back that the dog we applied for wouldn't be a good fit for us with the rabbit, and we were disappointed, but not surprised. But then, the next day I got another email from them saying they recently got in a puppy named Cash who tested really well with cats and could be a good match for us.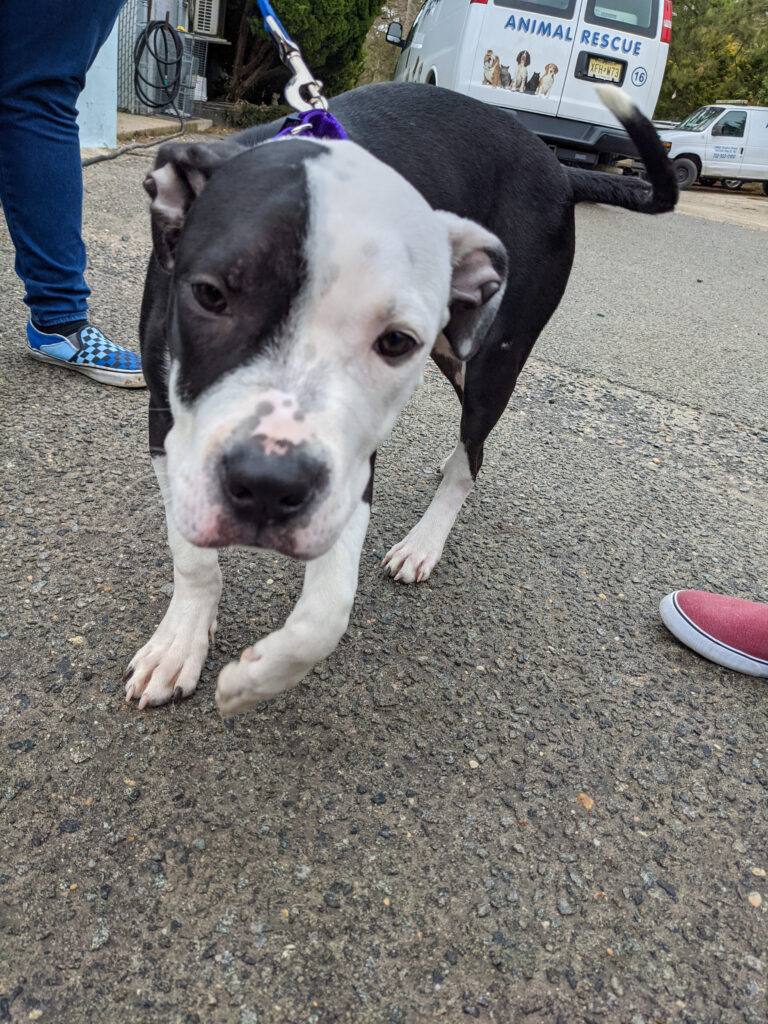 We applied right away and were accepted. We put our application in on Monday, completely sight unseen! We ran out to grab his supplies on Tuesday night after work and clean the house, puppy-proofing everything. On Wednesday, we arrived to meet him for the first time and take him home!
Real Talk: Levi's First Week
Y'all I knew puppies were tough, but puppies are tough. The first three days, Cody and I got max 4 hours of sleep. Levi had accidents once a day. He developed a nipping issue. He hated the crate. It was and still is a pretty legit struggle.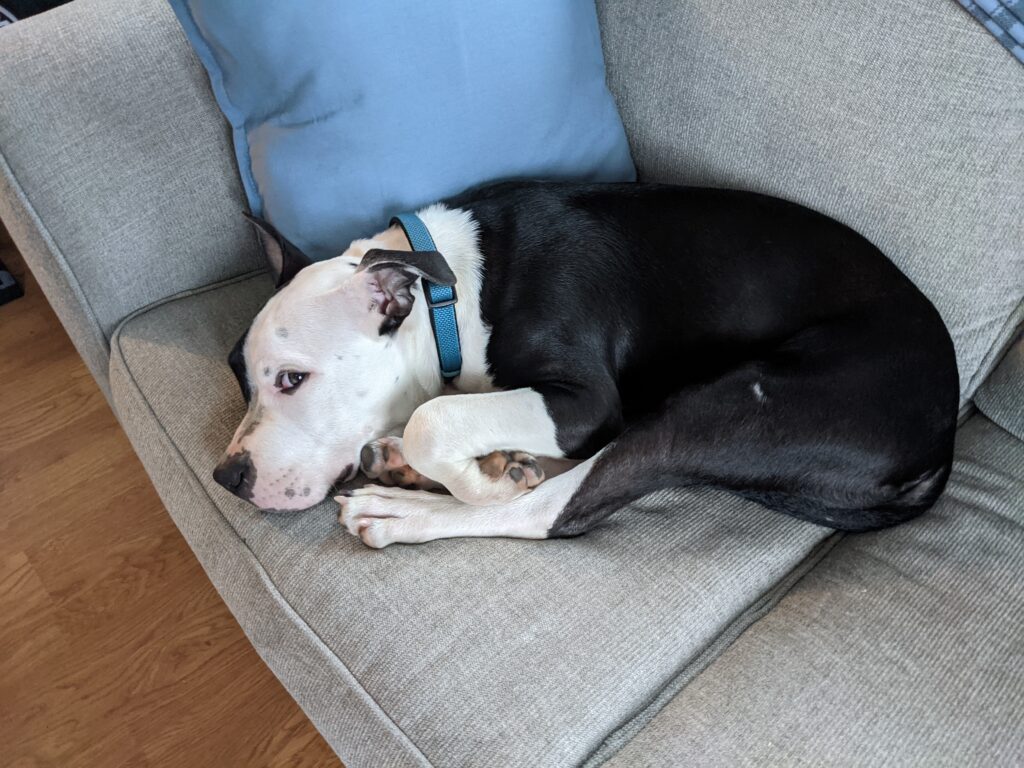 Then, after a week in, Levi got sick. Vomiting five times in two hours, refusing to eat, completely lethargic. I had spent the morning driving my parents dog out for a specialist surgery, and right after I turned around and had to bring Levi to our local vet. Luckily the vet wasn't super worried about him, and we left with two weeks of medication to get us through until his next appointment for the rest of his vaccines. (Shoutout to Rancocas Vet for squeezing us in on short notice and taking amazing care of all my pets).
I'll level with you all, there have been many many tears the last week, especially the past couple of days. It's been really really difficult, but it finally feels like we're making a few steps forward. We tried a new food, Levi ate, and he's been playing again. And with the warm weather moving in, we have the windows open in the house and I've been sitting outside writing this post in the sun on our porch.
Puppy Plans: Going Forward with Levi
Going forward, we have big plans with this little dinosaur. He has another vet appointment this coming week for his last couple shots. We start training with a local trainer next Friday, which is for training us more than Levi!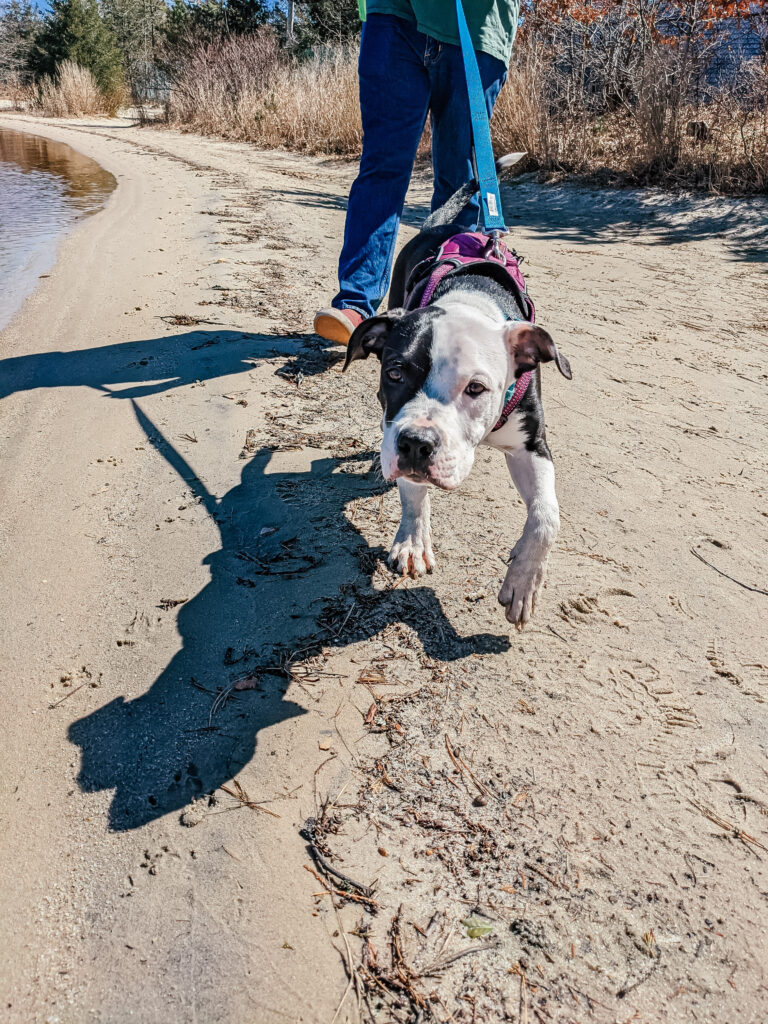 We're working on practicing manners during car rides, we're going to check out the local parks and work our way up to visiting the beach before they close to dogs. In November, Cody and I always take a trip out to the Poconos, and we want to get his car manners down so we can take him with us for the 3 hour drive.
8 Puppy Essentials
I'm far from an expert, but a week in, we learned very quickly what we actually needed, used, and missed. These are the 8 puppy essentials that you definitely need for your pup!
Affiliate links ahead, I make commissions on these links to no extra cost to you.
We purchased the in Comfort Collar in Blue for Levi.We've been happy with it so far, it's pretty soft on his neck, has a built in loop for tags, and Levi looks so handsome in the blue!
This wasn't our first choice of harness, but it's been really good! Levi is working on his leash manners, so right now we use the harness for a little more control on our walks and car rides. We picked one that had a lot of reflective elements for night walks and could carry his own poops when we eventually take him on short hikes with us. Only downside, it wasn't available in blue! Levi now wears a handsome pink harness, because he's secure in his masculinity
10/10 Love this leash! We got it in blue to match his collar and I've been super happy with it. This leash comes with two handles, one is a traffic strap lower down on the leash which we mostly use right now. The other is at the end of the leash (duh), but what's notable about it is that the end loop can be expanded so that it could be a waist loop. It's like everything you need in one leash!
We initially bought this as a crate mat, but that didn't go over well, so it ended up being a regular dog bed for Levi. It's great because it's washable but it doesn't go in the dryer, so it's not super convenient. Levi likes the bed though, he occasionally sleeps in it, mostly loves to play with it or hide snacks in it!
These are a lifesaver! We jokingly call them motivators, they've been really helpful in training Levi, keeping him focused on walks, and conning him to finally get into the house after playing outside. I have NO clue on the actual health value of these, but Levi loves these and they make training so easy!
We got this after Levi straight up rejected all his other toys. I'll be honest, I picked this bad boy because it was pretty cute and I thought it would look nice when I get my home actually put together again. This is one of Levi's favorites with 9 squeakers and it's been pretty indestructible so far!
I bought this crate years ago for Gus and we ultimately phased it out for him. Luckily I saved it and we're attempting to use it with Levi now. While it's not going well, it's definitely a must have for puppies.
This is probably more helpful for smaller puppies, hard to contain a 40 lb baby! We're going to give this a try next
---
We're so excited to have Levi here, and we're looking forward to the next step in our lives with him. Or at least wrangling him! I hope anyone looking to add a puppy to their life finds this list helpful, we completely winged it when we found out we were getting Levi