Earlier this week I walked about my 2021 goals which included more physical and mental self-care. One thing that included for me was developing a winter skincare routine. 
I was always one of those really annoying people who always had decent skin. For the longest time my only skincare was some off-brand "morning hydration" face and body lotion and baby wash. And micellar water to take off makeup, when I remembered. And with that, I only ever had at most a couple pimples or a few light bumps.
A couple of years ago, the universe played a sneaky Uno reverse card on me and took away my simple, easy skin. Replaced it with oily skin summers and dry, cracking winters. I did the bare minimum to care for my skin, mostly just addressing things as they came up, instead of preventing the problems. The upside of all the spare time I had in 2020 meant I watched a lot of skincare Instagram posts. Like a lot. And I actually started to learn about caring for my skin.
So when winter came again this year, the incredible dryness came with it. Even though it hasn't been too terribly cold this year, and I'm not going outside that often, I'm still getting cracks on my hands, my lips, and around my nose. And yes, they all hurt so, so badly. But this year I am prepared! I've been using these products to keep my skin as healthy as possible, and I use just 4 products almost every night and have amazing results.
Before we go forward, I am not a dermatologist, esthetician, or skin care expert. This routine is what works for my normal to dry skin. I recommend these products based on my experience, but if you are unsure on products, you should do your own research or contact a professional for assistance on your skin.
Affiliate links ahead, I make commissions on these links to no extra cost to you.
Morning Skincare Routine
Organized mornings aren't necessarily my strength lately. The morning "routine" isn't really much of a routine at all, but rather things I do to my skin at miscellaneous points of the morning.
Once I'm up, I'll take my Invisalign trays out, brush my teeth, and just splash some water on my face. I'll pat with a washcloth until my skin is damp and then put on a thick moisturizing cream. Usually, I'll use a pump of Cetaphil on my hands and face, followed by Aquaphor on my lips.
During the day I'll add more Aquaphor if I need, or any other chapstick I have stashed around my house. Most days I won't need to reapply any lotion to my face, but will for my hands. I keep a bottle of lotion on my desk to use whenever throughout the day. Lately it's been the Unfiltered by Raw Sugar Blueberry & Thyme Hand Cream that I got as a gift from a friend.
Nighttime Skincare Routine
I'm definitely starting to enjoy having a real nighttime skincare routine. I thought it would be a chore at first, but very quickly it started to feel like a luxury! I stick with the routine probably 5 nights a week, which is pretty good for someone who had zero routine at all a month ago.
If I have makeup on, I start off with the Garnier's Micellar Water and use it with reusable bamboo cotton rounds. If I don't have any makeup on, I'll jump into my winter skincare routine with a quick rinse with water and pat with a washcloth.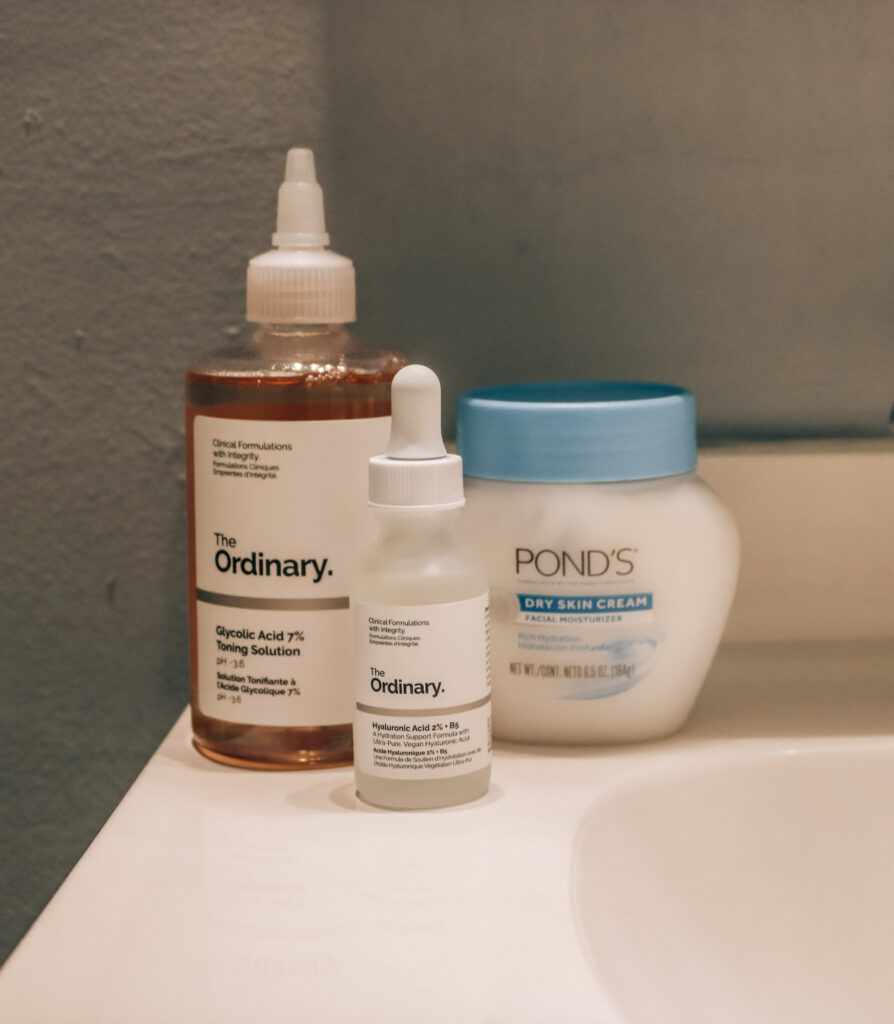 Then I'll dampen a cotton round with The Ordinary Glycolic Acid 7% Toning Solution. I like it because it's a very gentle toner and it's alcohol free. It helps remove dead skin cells from your face and a faster acting hit of hydration for your skin. After that, I squeeze a few drops of Hyaluronic Acid into my palms and press that in my face, neck, and the top of my chest if I can. I use The Ordinary Hylauronic Acid 2% with B5. Hyaluronic acid helps replenish moisture in your skin and the B5 prevents moisture loss. Last on my face, I'll use either Cetaphil or Pond's Dry Skin Cream.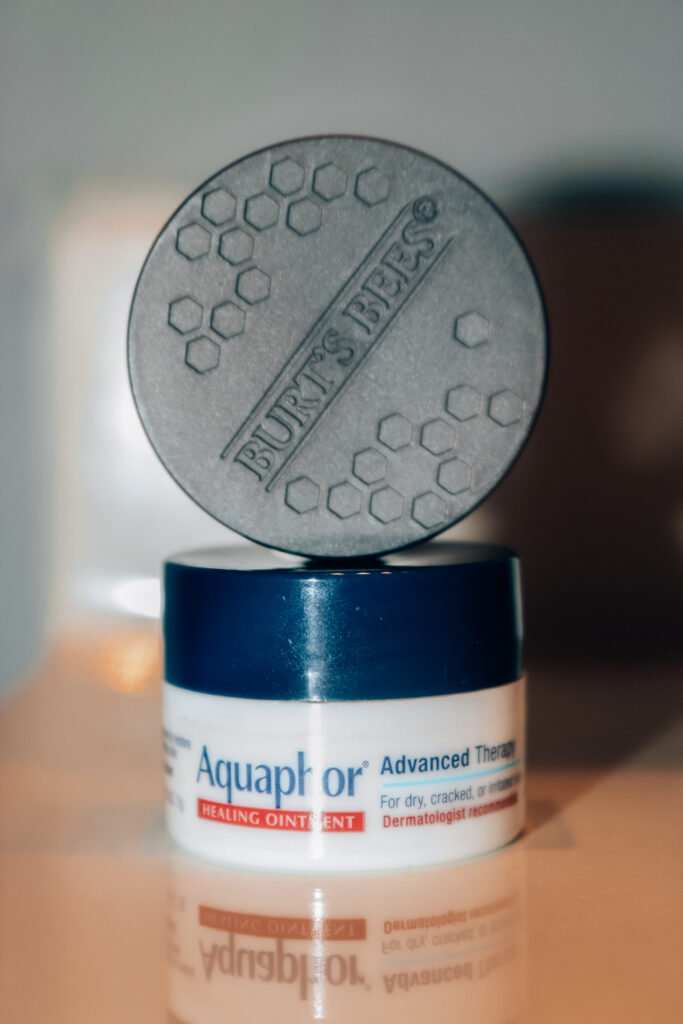 For my lips, I'll put on some Aquaphor right after brushing my teeth, and then the Burt's Bees Overnight Intensive Lip Treatment. I wanted to try the Laneige lip masks, but I just can't justify a $22 fancy chapstick. My sister loved the Burt's Bees one, and I've been really happy with it.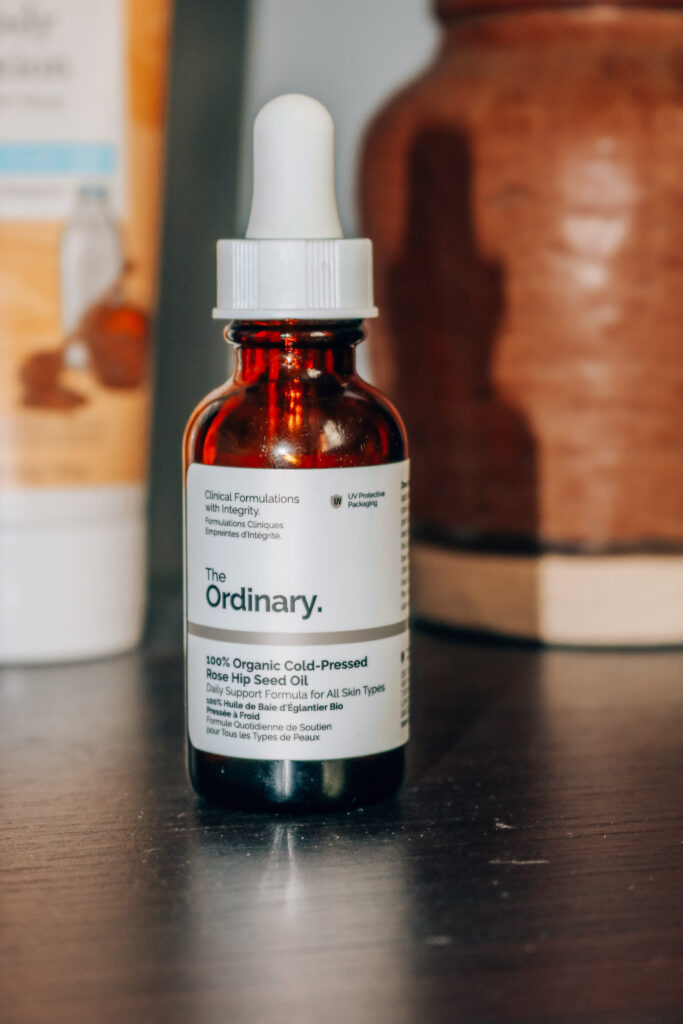 When it comes to keeping the rest of my skin healthy, I keep it pretty simple. I use The Ordinary's Rose Hip Seed Oil on my legs, arms, and back, and then go use a shea butter lotion (whatever I can find on sale really) on my legs and arms. The rose hip seed oil is supposed to help with reducing scars, so I try to apply it every night. I have incredibly pale skin and I'm super sensitive to bug bites, so living not far from the bay has wreaked havoc on my skin in that aspect. I've been using it for a couple months now, so it's probably too early to tell if it's made much of a difference. I'm going to stick with it and update you all in a few more months.
---
Taking the time to care for my skin and using skincare products is a totally new thing for me. I really thought it would be a chore to have a skincare routine and a difficult time to find budget friendly skincare. Really though, developing the habit has been kind of a luxury. And most importantly, this winter skincare routine is saving my dry, cracking skin! Keep an eye out on future posts for a follow up on these products.