I wanna be upfront with y'all, I hate swimsuit season. Really just spring and summer altogether, not a big fan. It's hot, it's sticky, it's sweaty. Then add on being in a swimsuit for potentially hours a day? Yeah not my definition of fun, wake me up when September ends and I can crack my sweaters out again.
Despite that, I really want to get out and enjoy the sun this year, self-esteem issues be damned (she says feeling confident now, but we're working on it). I need a new swimsuit for this year, and I spent a lot of time shopping for the perfect one. It is literally the biggest pain in the you-know-what, but I wanted to share my work with you, and hopefully save you a little bit of time and frustration. Check out my favorite picks for summer swimsuits below!
About My Size
One thing that drives me crazy, is when bloggers share their outfits and picks without sharing their sizes. So in full clarity, these swimsuits and coverups are all ones that I feel would fit me and my body.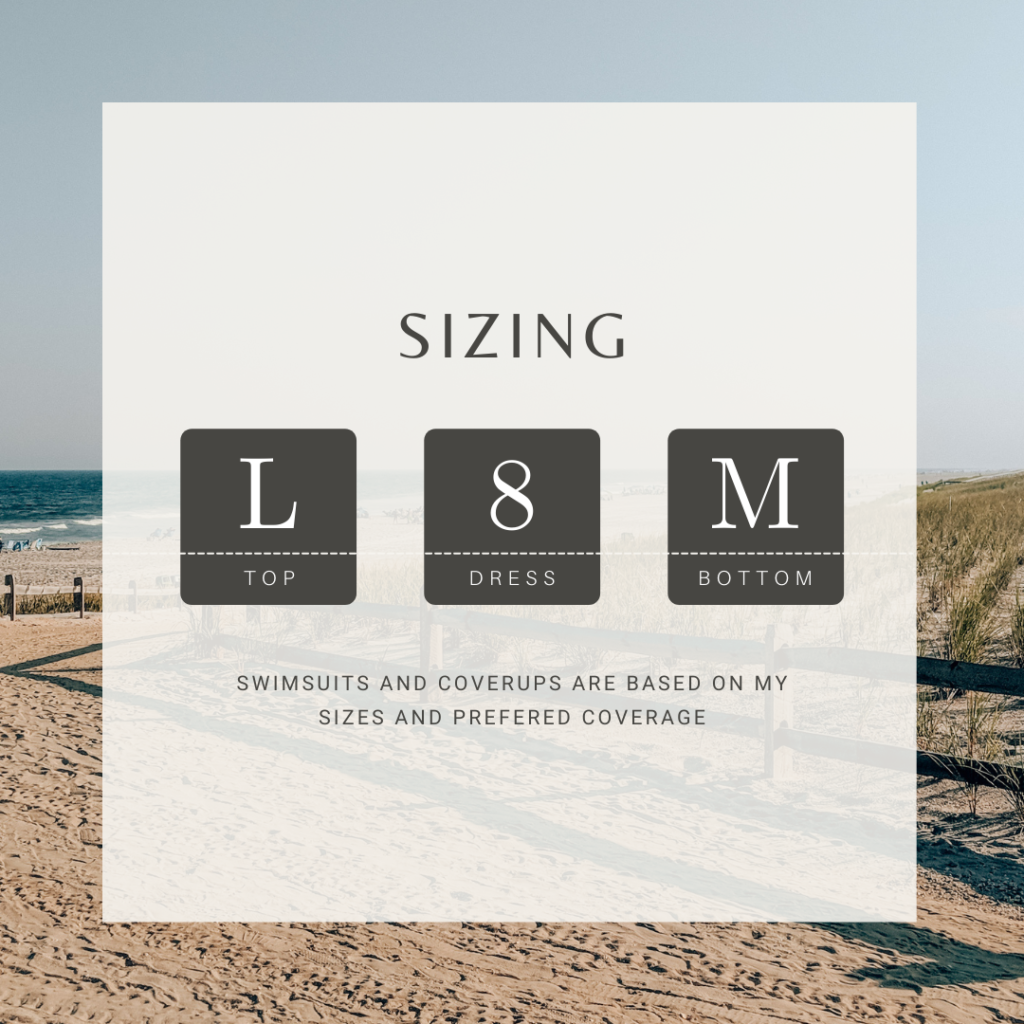 Swimsuit Picks
I shopped around to my favorite stores to find my new swimsuits and coverup including J. Crew, J. Crew Factory, Old Navy, Athleta, and Aerie.
J. Crew
Pro: I love J. Crew. They're just my style and hit my goal wardrobe right on, every single time.
Con: I find that J. Crew doesn't quite hit on two other major categories for me: price and model diversity. Price wise, it's just a little out of range for me. When it comes to diversity, I find it's a little lacking. A lot of thin and mostly white women. It would be nice to see some more diversity across the board.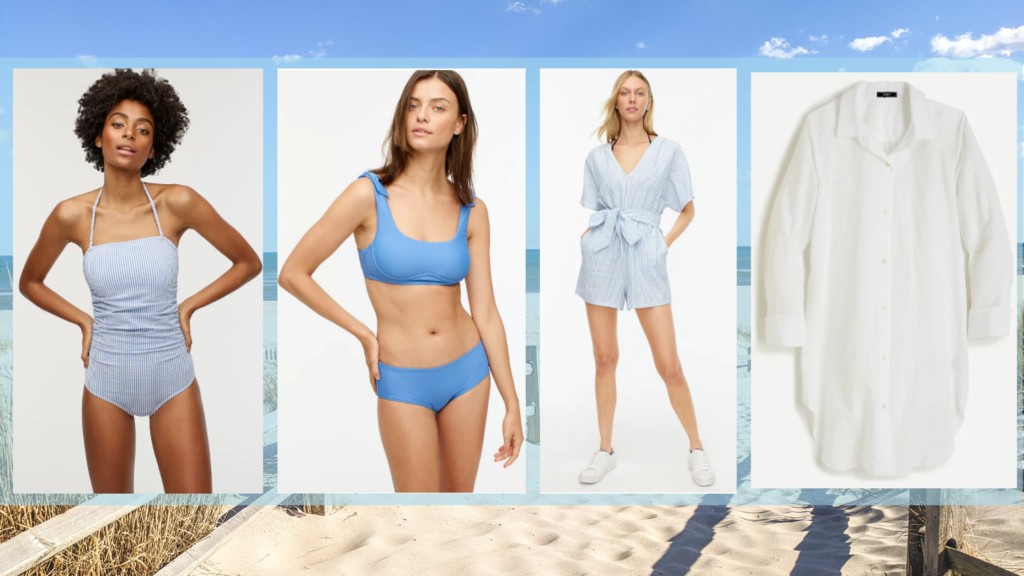 One Piece // Bikini Top // Bikini Bottom // Romper // Button Up
Why I Liked: The swimsuits are super cute and have decent coverage. The one-piece is not something I could wear strapless, out of fear of one (or both) of the girls escaping, but it's a super cute seersucker and I love the look. The coverups are also right up my alley, cute, crisp, and easy to toss on as an outfit.
Why I Didn't Buy: Primarily, the price. $100+ for a swimsuit? Not really in my budget. And while I would LOVE to have this romper, I am a long torso lady, and rompers just aren't my jam, despite my best efforts.
J. Crew Factory
Pro: This is usually my primary J. Crew. The style, the goal wardrobe, and the prices are much closer to my budget, and I can hit the sales pretty well to the basics I need.
Con: I find that J. Crew Factory tends to have a lot of trendy pieces that stray a little farther from the modern preppy look I usually prefer. Which is fine, it just means that there are fewer pieces that are really up my alley, especially for coverups this year. And again, with diversity, it's lacking here a well with again, a lot of thin and mostly white women.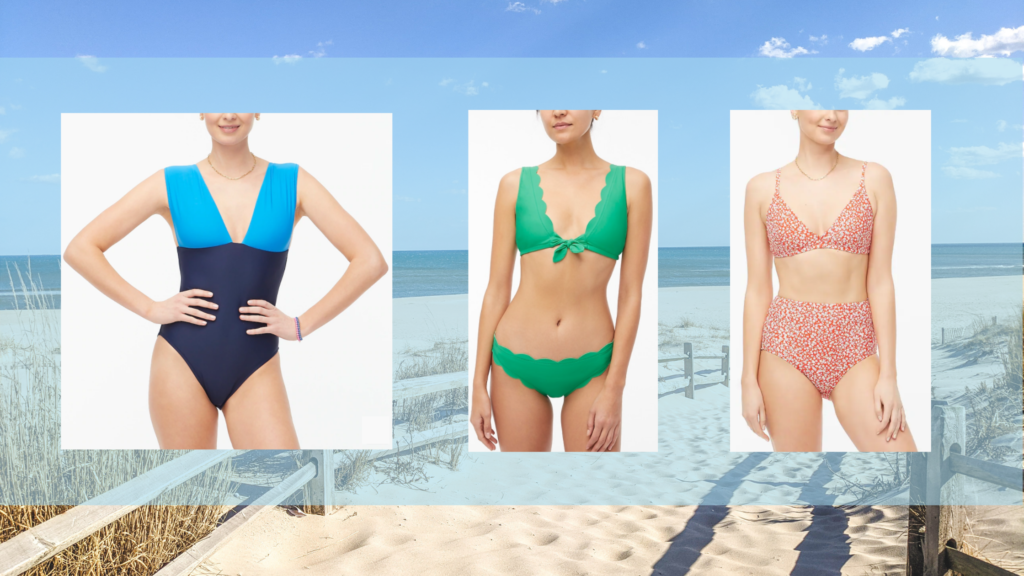 One Piece // Green Bikini Top // Green Bikini Bottom // Red Bikini Top // Red Bikini Bottom
Why I Liked: Cute designs, better prices, and better coverage. The bikini tops seemed pretty secure, and the red bikini and one-piece looked like they have really good booty coverage.
Why I Didn't Buy: These suits are super cute, but they just didn't quite do it for me! The price wasn't quite right, and I feel that based on my sizing, the one-piece isn't THE most supportive. It just. Eh? These are good picks for the right person, but just not for me!
Old Navy
Pro: More affordable styles, lots of stackable deals, and a much more diverse group of models!
Con: A lot of trendy pieces and colors, which isn't my favorite thing in the world. And quality-wise, Old Navy isn't setting any record here. But it's a good quality for the price!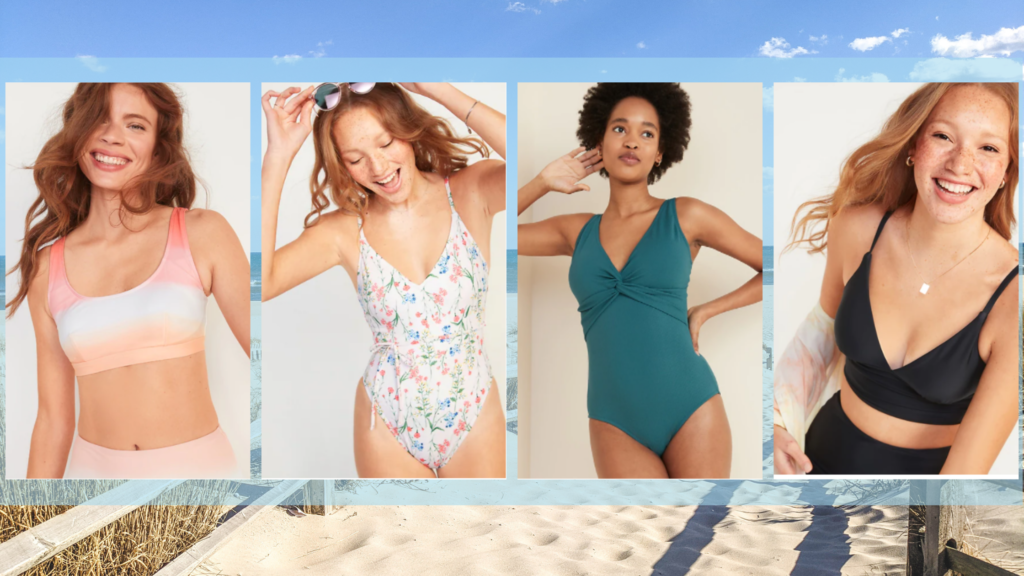 Dip Dye Bikini Top // Dip Dye Bikini Bottom // Floral One Piece // Ribbed One Piece // Black Longline Bikini Top // Black Longline Bikini Bottom
Why I Liked: First and foremost, all of these swimsuits feel like they have great boob coverage. The black longline one might be a little more risky, but even then, it seems like full coverage tops. And again, the prices are super reasonable, especially when you stack sales!
Why I Didn't Buy: These were almost the ones! My only issue is that I always need to try on clothes at Old Navy for size. And usually, that's no problem. They have great returns and it processes really quickly. But if I didn't have to likely do the exchanges, Old Navy might have been the one!
Aerie
Pro: Price-wise, Aerie is right in the middle. Could it be a little cheaper? Yes, but it's not breaking the bank. Diversity is also a big plus. A lot better size diversity and racial diversity, not that my picks apparently reflect that. I also really appreciate that Aerie models actually look like they enjoy wearing the swimsuits and are like, real people? Not just breathing mannequins, which is really a pet peeve.
Con: A lot of trendy pieces. Like, a lot. Which is tough, because I don't love buying trendy items. I don't often buy bathing suits, so I don't want to get one that's only good for one season. Lastly, cheeky swimsuits aren't really topping my comfortable clothing list, and most of Aerie's bottoms are more of a cheeky fit.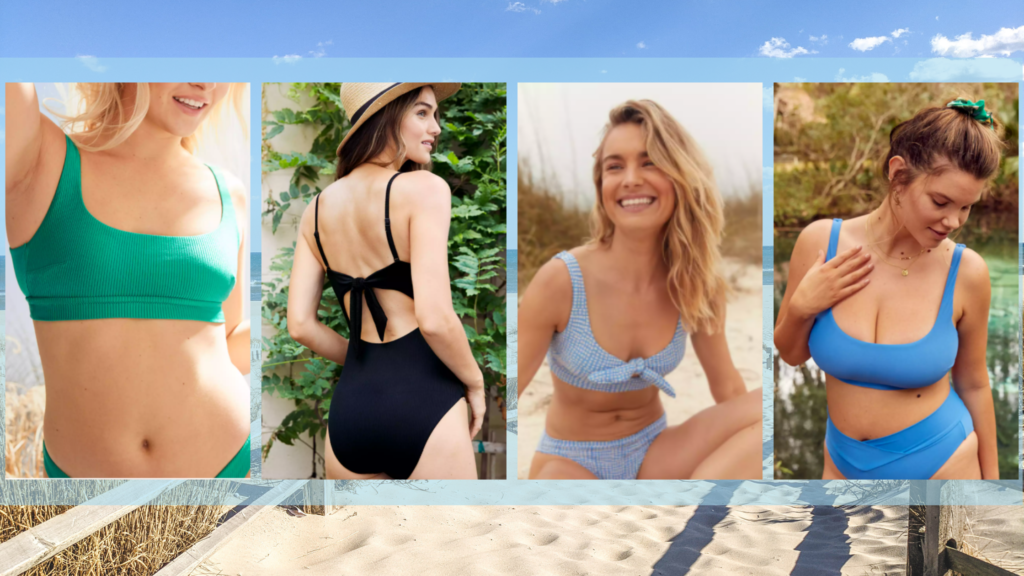 Green Bikini Top // Green Bikini Bottom // Black One Piece // Blue Jacquard Bikini Top // Blue Jacquard Bikini Bottom // Solid Blue Bikini Top // Solid Blue Bikini Bottom
Why I Liked: So many color and pattern choices! It took me a long time to narrow down which swimsuits I put in my cart, and these colors and patterns were so cute. I love that all these suits have pretty good coverage on top and a lot of different fit and size choices for the bottoms, coming from someone who prefers a higher coverage suit.
What I Bought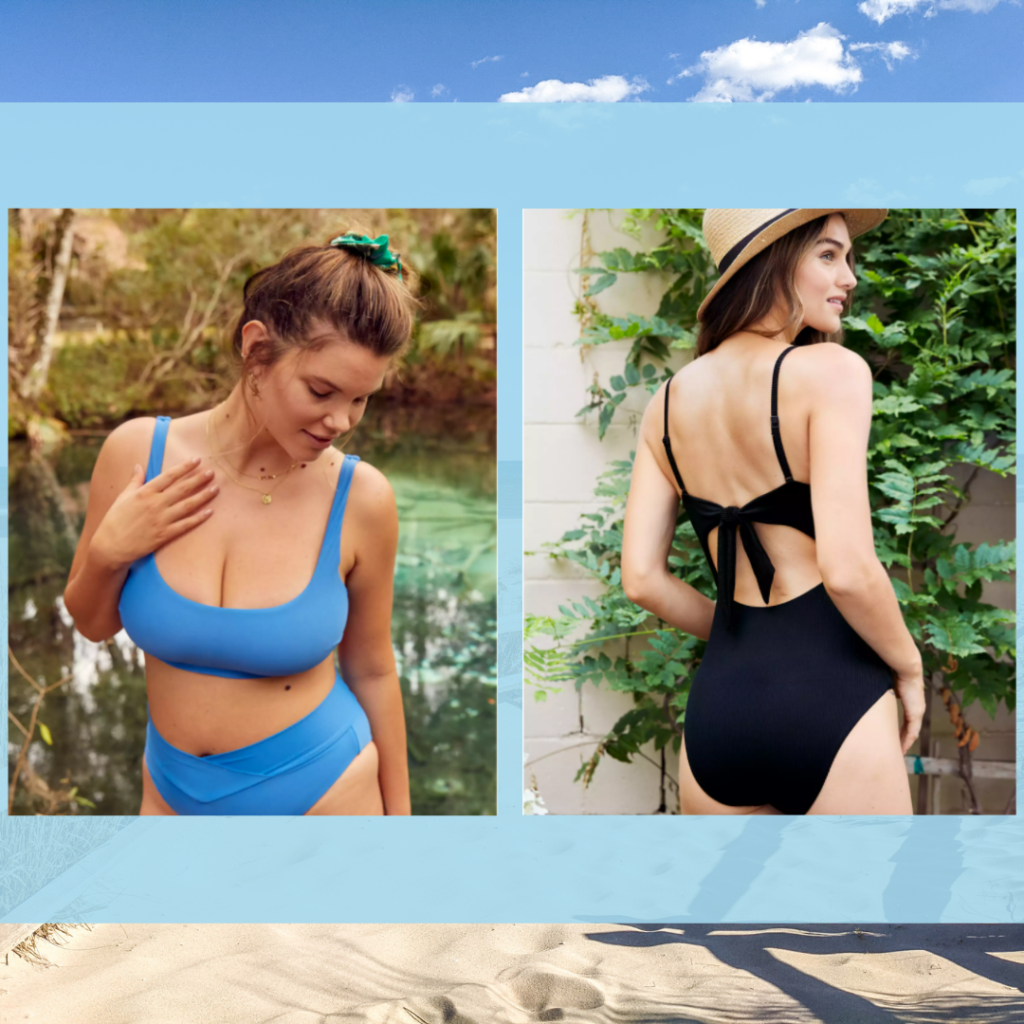 Black One Piece // Solid Blue Bikini Top // Solid Blue Bikini Bottom
After a very long search and many arduous hours of online shopping, I finally found the ones! Sarcasm aside, I'm super excited to get these Aerie swimsuits. I love the fuller coverage bottoms, the tops seem pretty supportive, and they have pretty reasonable prices.
The black one-piece was a real winner because it was the only one I found that had more pizzaz to it. Lots of the others were pretty simple, with little bows or nothing at all. This one, despite being plain black, has a cute tie and a little keyhole back.
The bikini was a tough choice, I really had a hard time picking which one to get, because I just couldn't buy three bikinis, I just don't go to the beach enough to warrant it, despite the fact that I live like 20 minutes away from the ocean. But I went with the blue bikini because it's my favorite color, the model looks like she has good support up top, and the matching bottoms were my favorite style!
---
Keep an eye out on my Instagram in the coming weeks to see how these Aerie swimsuits fit and look, I'll be posting about them soon! In the meantime, check out similar posts here.