Every year we spend the weekend after Thanksgiving traveling on a road trip. It started out on a whim after our first Thanksgiving, just a few months after we started dating, and now it's become an annual tradition to kick off the holiday season. Usually, we end up at a family house in the Poconos, but this year we decided to mix it up. We wanted to make it a budget-friendly trip, dog-friendly to bring Levi with us, and Cody wanted to be somewhere near the mountains. There was a pretty serious debate (a whopping like 20 minute debate) on where to go, and we took a look at our 30 States lists, and settled on western Maryland. We looked around a few different areas on AirBNB, ultimately settling on a little house a few miles west of Hagerstown.
This post contains affiliate links to items I use and love. If you make a purchase after clicking one of these links, I make a small commission. Your clicks support this blog and this dog, we both thank you!
Where We Stayed
Our main goal was to find a cheap place to stay. No joking, we had four requirements for whatever house we found: a functional kitchen, wifi, dog-friendly, and cheap. There were a couple of options, but we chose this small cottage in Clear Spring, Maryland.
For a 3 day/2 night stay, we paid $297.78. The area had quite a few homes, but not many were available for our high-demand dates. The home we stayed in had all the basic things we needed, a beautiful front porch, and was in a quiet neighborhood. A few downsides, the home had many, steep, shallow stairs to get to it (I'm not a big fan of stairs!)parking wasn't amazing, and there was no teapot. On the whole, nothing egregious! We were warm, we could cook, and enjoyed some gorgeous cool mornings on the porch!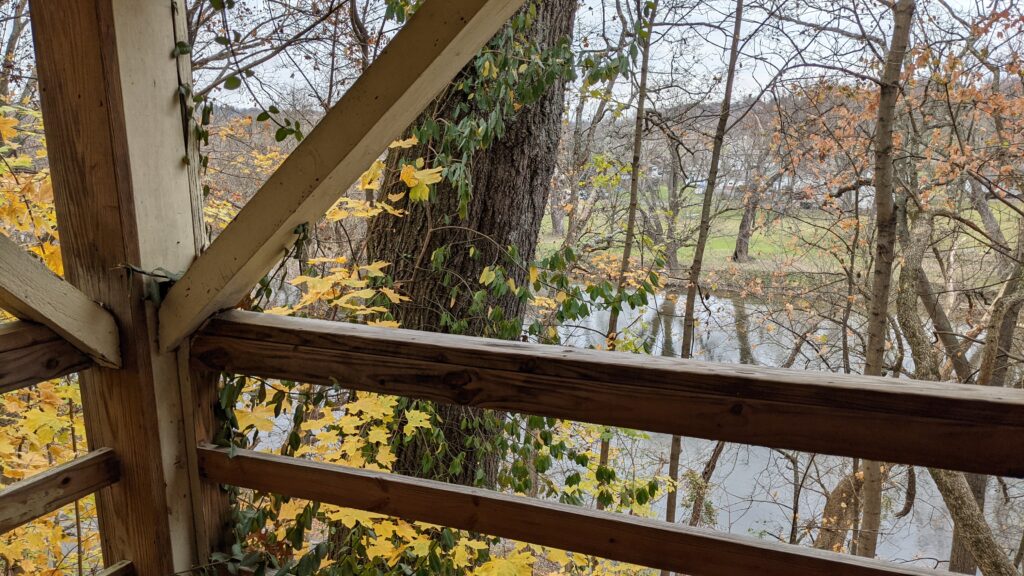 Other Great Airbnbs in the Area
We loved the Hagerstown area as a quiet retreat and there are quite a few other low cost stays in the area too! Here are some of my favorite options:
What We Ate
The biggest money saver for us when we travel is planning our meals right. Food costs can really add up, and we wanted to keep a really tight budget for this trip. Here's what our actual meal plan looked like: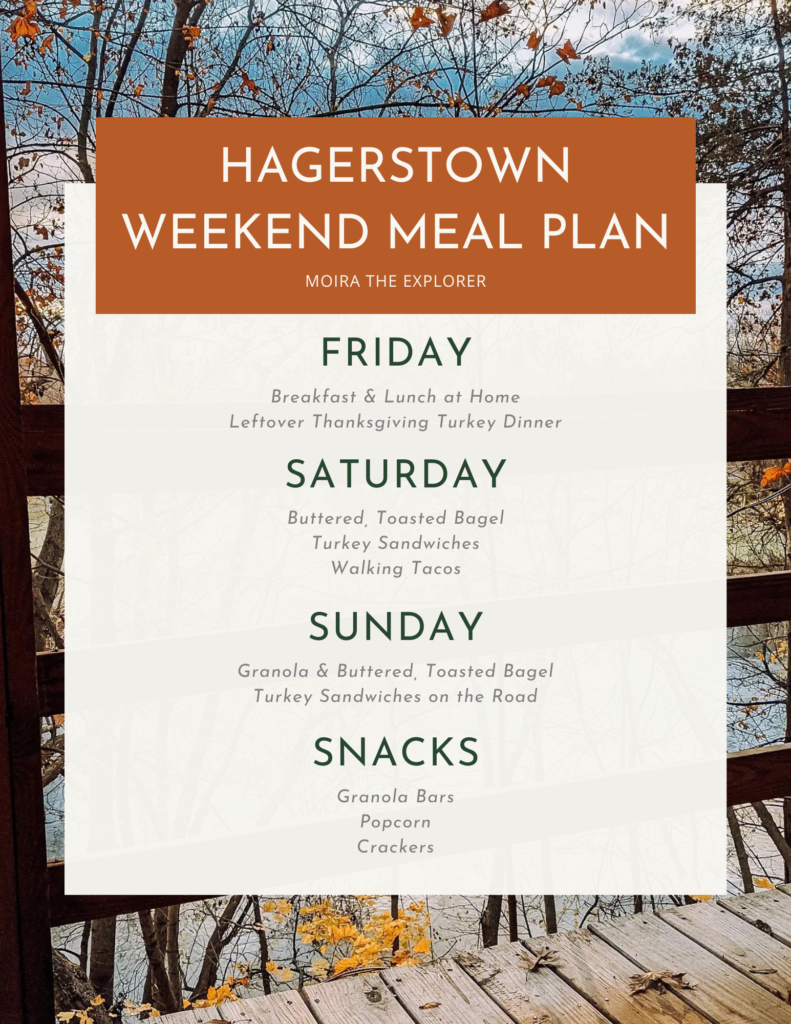 We definitely should have brought a couple more snacks for the house, our biggest regret was forgetting popcorn! We usually travel with a couple gallons of water as well, which we should have brought with us ahead of time too.
While on our three day trip, our total food spend was $65. This included one grocery trip in Hagerstown, and one egg sandwich lunch at Sheetz because we forgot to make our sandwiches before heading out (rookie mistake!)
Other budget-friendly meal ideas
This trip's meal plan definitely isn't our greatest. I'm not afraid to admit it. So if you're looking for a few more budget-friendly, travel-friendly meal ideas for your road trip or weekend getaway, check these out:
What We Did
Activities-wise we kept it pretty low-key. We initially planned to take three hikes: Washington Monument State Park, Green Brier State Park, and Antrim Township Park. Saturday we did Washington Monument State Park and Green Brier State Park. Beautiful trails, long walks, it was the perfect weather, and Levi had a ton of fun snuffling around the woods. Would totally recommend these to other beginner hikers, but don't forget to bring water with you on trails at Green Brier State Park! At the end of the day, we made a last-second decision to add Ridge State Fish hatchery to our list too. They feed the fish daily at 3:30 PM, which was cool to see, but there definitely wasn't too much to actually do or see other than that. You could probably give this one a miss unless you were really into it or just stopping by briefly. In total on Saturday, we spent just $5 on activities, to get into Green Brier State Park.
Hiking Near Hagerstown
On Sunday we planned to go to Antrim Township Park, but it was pretty clear that Levi was definitely a little tired still from the long walks the day before. And honestly, so were we! I had gotten a few recommendations in my comments and DMs to check out Frederick if we weren't going for another hike, and it was right on the route home, so that's just what we did! We packed up the car, did a final goodbye to the view from the cabin's porch, and then off we went towards downtown Frederick.
Downtown Frederick
It was a pretty quick drive, they had free parking from Thanksgiving through Christmas which was a huge perk. We bundled up for the cool day and off we went! It was Levi's first time in any kind of city, and he did really well. It also helped that every third person wanted to pet him, which he was more than happy to get. In Frederick itself, we walked down the canal (which was decorated with boats sponsored by local businesses!), around the main downtown streets. All the stores were super tempting, especially the home decor ones, but the tightly packed car was the only reason I didn't check them out! I did however stop into the Curious Iguana, an adorable, modern, independent bookstore with a name that caught my eye from a mile away. I was tempted to spend every last dollar to my name in there, but I kept it reasonable. I bought a book for myself, a book for Cody's Jolabokaflod gift, a small Christmas gift for a friend, and an adorable book sticker because it was just too cute to pass up.
As our afternoon in Frederick came to a close, we were going to treat ourselves to lunch or coffee, but being the Sunday after Thanksgiving, most places were pretty busy and didn't have an outdoor seating area set up. That made it a little difficult, but if you had a small dog or went on any other weekend, I'm sure it would be a lot easier!
Car Travel with a Large Dog
We're super lucky that Levi travels really well. He's not super anxious, pretty well behaved, and is finally getting strong enough to jump into the car on his own. That being said, learning to travel with Levi has been a learning experience. We've tried quite a few different methods of driving with a large dog.
Previously, we had been traveling with Levi in a backseat hammock cover. It wasn't great for him, he was too big, too antsy, and tried to jump into the front seat. We had tried to put him in the trunk a few times, but he always jumped into the backseat. Right before we left, on a whim, we picked up a cargo area barrier. It wasn't cheap, and it was a huge pain to put together in the cold November wind, but it worked fabulously. Right away Levi figured it out and stayed in the back super well, he settled right down to nap on the new bed we ordered for him, and it was a super simple ride for everyone.
Levi's packing list was the easiest to make. We made sure to pack his food, treats, a coat for cold days, the new bed , and a couple of his favorite toys,
Please remember, when you travel with your dog it is super important that you take all precautions you can to make the ride safe for everyone.
Total Cost of Our Weekend Away
In total on this trip, we spent $449.78. We didn't set a price cap for this trip, but keeping it under five hundred is a pretty good deal for not actually setting a budget. Check out the breakdown:
This trip there were a few ways we could've kept the costs down. Skipping the one lunch out would've been a bit of a cut off the edge. Bringing more snacks from home would have cut back the grocery trip too. Gas could have been a little cheaper if I kept an eye out on cheaper gas stations, but not too much that could change there. The Airbnb took up more than half our spend too, which was tough. The best way to keep costs down on housing though, don't book on a holiday weekend! Booking the weekend after Thanksgiving guaranteed we would spend more money on our stay. There were also other options I linked with fewer amenities, making it a lot cheaper.
In the future, five hundred is definitely a fair max cap to set for our trips. I'd like to see us keep it below four hundred, or even three if we could.
---
We really enjoyed our stay in Hagerstown, this trip stayed pretty budget-friendly and it was a really fun road trip. There are definitely a few things I would've done differently on the planning and packing side, but the trip itself was just a really fun time. Have you taken any low cost, budget -riendly trips lately? Where are you traveling to lately?
Keep up with what's going on with Moira The Explorer on Instagram and join the newsletter. Looking to connect with like-minded, budget-friendly folks? Join the new Budget Friendly Living group on Facebook!