We've been in Hygge House for almost a whole year now, which is absolutely crazy to think. We've gone through so many ups and downs, we gained a pet, we lost a pet, I learned to cook, I put together furniture, and Cody learned how to deal with me putting together furniture. But despite all this time in our home, we're still developing our interior design style, and just finding what we really love. Check out the changes we've made in our living room in the past year.
Focusing on Slow Design
Slow design is a newly coined term, but it's really just interior design for the average person. It means taking time to find the right pieces for your home and your style, not just grabbing the first trendy pieces you can get. Another major element of slow design is building out your home with budget-friendly pieces, no matter what your budget.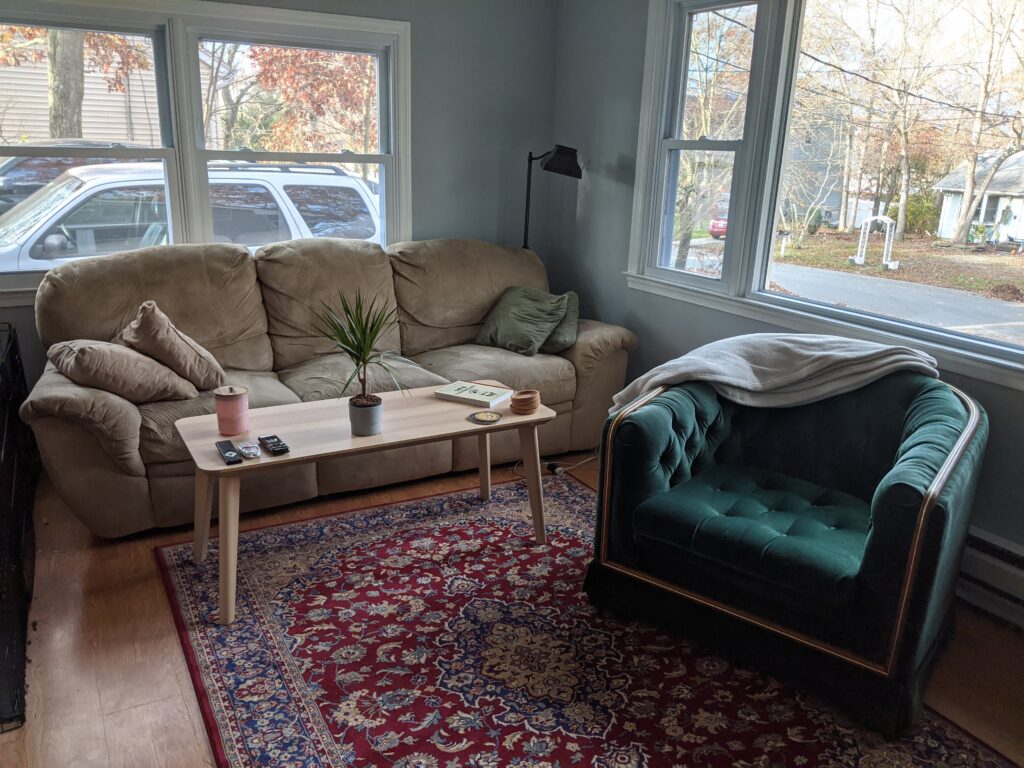 For Hygge House, this was a tough process. We didn't have much furniture starting out, I had no clue what design style I actually liked, and I went a little wild in IKEA right off the bat. After my initial new-home-fever had passed though, I took stock of our new setup and really took the time to learn what I enjoy and what would look best in our home. Lots of time surfing around on Pinterest, spending time in interior design FB groups, and far too much time on Canva mocking up rooms with new furniture
Living Room Today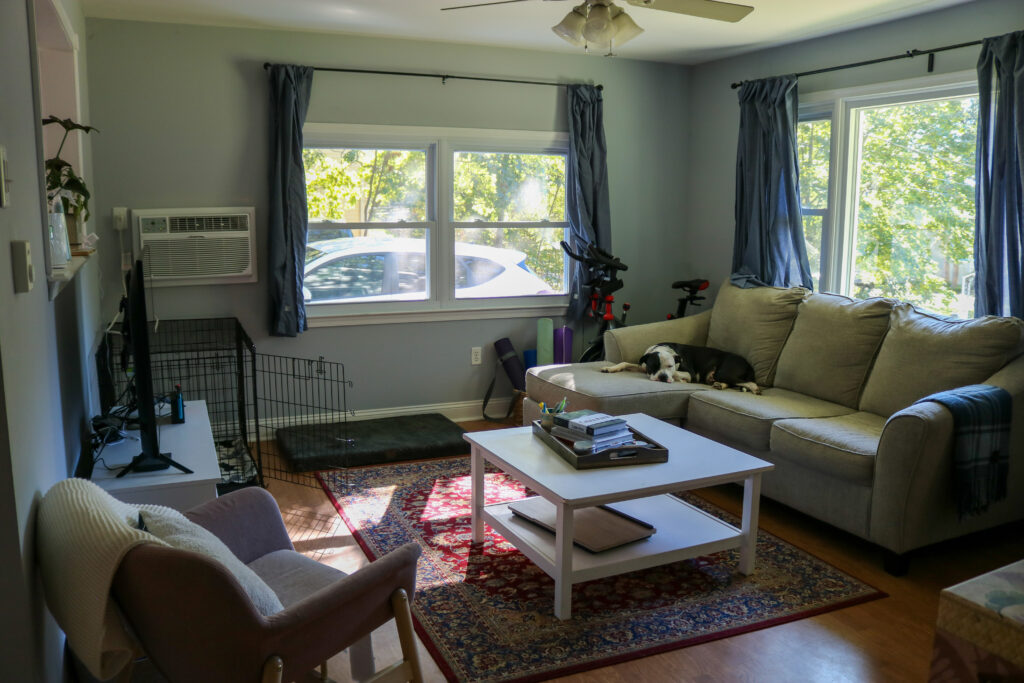 Dog Crate (similar) / Dog Bed / Schwinn Bike / Yoga Mat (similar) / TV (similar) / TV Unit / Rug / Coffee Table / Couch / Chair (similar)
Now, nearly a year later, we have a new couch, new coffee table, and a whole new layout!
The couch has been an experience. Finding a good couch was super difficult, especially given that we had a super tight budget. It was also something that Cody had some non-negotiables over. There wasn't much he had an opinion on for the house, so when he did, I made sure to take them into account. It had to be long enough for him to stretch out on and "just be comfortable," and I wanted to have a chaise on the couch. We loved the Ikea Ektorp and Uppland sofas, but with unknown shipping times and costs, it wasn't really an option. We ended up with a fairly priced cough from the local Value City. We're not entirely happy with the couch we have, but it was better than waiting a mystery number of weeks for the stock to come in at Ikea.
Other new-in items to the living room include the coffee table, the entertainment center, the spin bike, and the crate.
The coffee table was swapped from the Ikea Lisabo to the Ikea Hemnes table. The Lisabo was great, but just not the right dimensions for us. The Hemnes is a little big overall, but the wide shape allows me to have the decor I want, and for us to actually use the table too!
The entertainment center was a pretty easy upgrade, we found what we liked quite quickly and the old center was pretty wobbly, so we were in a rush to get it!
The spin bike was a great addition, I loved spinning before, but my local gym has since closed (if someone wants to go in on it with me, let a gal know!), and I hadn't been able to spin for a while. Early this summer I found a Schwinn bike on Facebook Marketplace and I love using it with the Peloton app.
Levi's crate was a less pretty addition to the living room, but after a lot of trial and error with leaving him home alone and moving the crate to different rooms. Levi has naps in his crate, sleeps safely when we're out of the house, and eats his meals in there now. Eventually, we'll upgrade him to a nicer crate, something that looks more like decor than just a metal crate, but while he's still a little destructive, we're fine to use this one.
The most important change was rotating the whole room 90 degrees. While I would prefer the TV to be hung, it's so much easier this way! Originally, the couch felt SO far from the TV, and the entertainment center was almost in the doorway. This new layout puts the TV at a comfortable viewing distance, gives Levi a safer corner to have his crate, and makes the room feel a whole lot cozier!
Things will definitely change again, we're looking into paint colors, the bike may move back to my office, the chair will definitely be replaced, but we're super happy with the progress so far. It feels good to have one space that really feels like home. Especially when the rest of the place is still in flux!
Adding A Foyer Area
Our home is on the smaller side, and one thing it didn't have was a foyer. The surprising perk of this new sideways layout is we gained a foyer area! Right now it's a bit of a mess, and in my true open fashion, I will shamelessly share that with you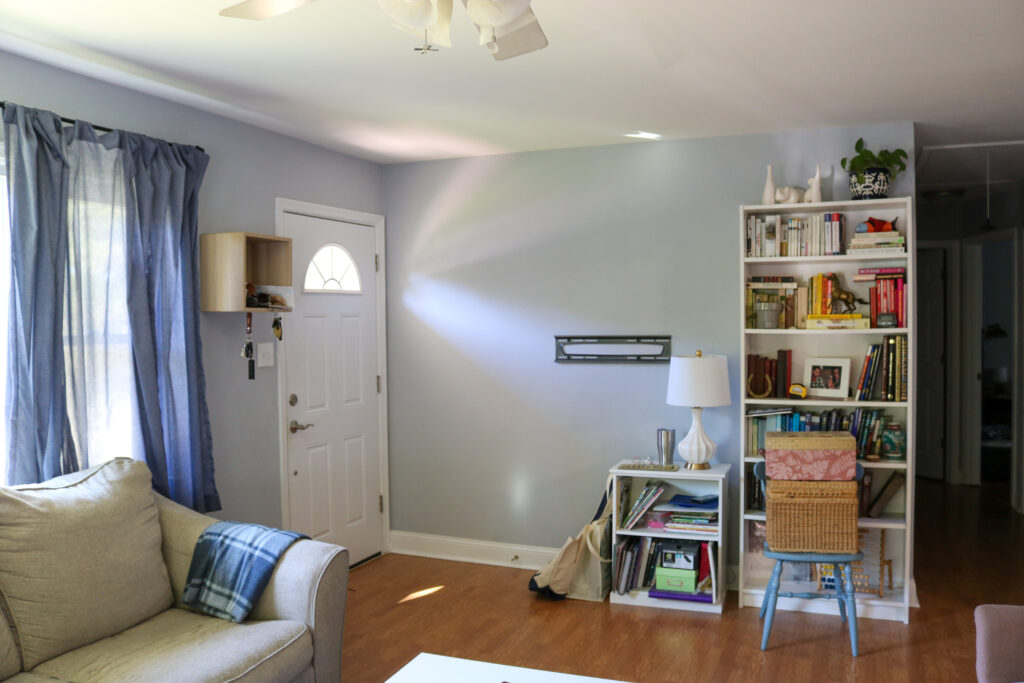 Ok, I'll admit to tidying it up a little before the photo. But while the space is a bit of a hot mess for now, we have big plans.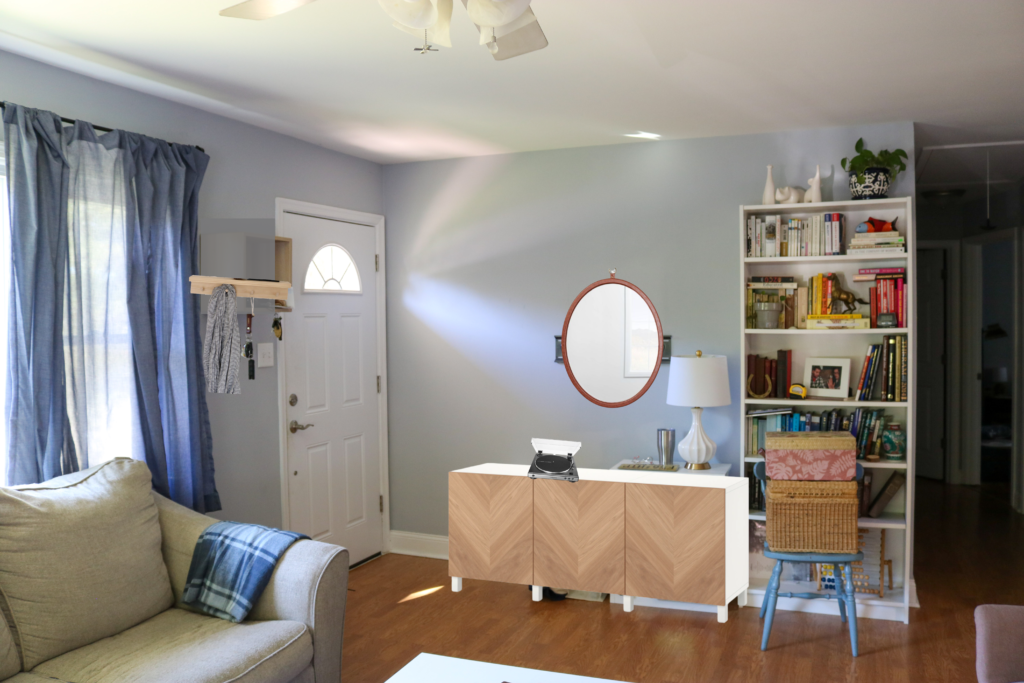 We'll eventually be relocating the TV mount to our bedroom and removing the shelf-o-stuff, replacing it with the Ikea Besta as our entryway cabinet. We'll be accessorizing with an AT record player, my favorite lamp, and a mirror on the wall (any reccs?), just to start. After having the all white furniture for a while, I'm excited to start incorporating some warmer wood tones too with the Besta doors and a new front door shelf coming soon!
Let me hear your thoughts and reccs below or on social! The best way to find me is on instagram, @MoiraTheExplorer or keep an eye out for new things happening in the FB group sphere!