Back in January, I committed to taking more time for self care, which included developing a skincare routine for myself. I've never been a big makeup/skincare person, so building up the habit required time and patience on my part. Plus keeping it budget friendly skincare is tough! I was doing well with my winter skincare, as someone who is super dry 24/7 in the winter, it was practically mandatory! For summer skincare though, it's high time to switch it up! So first, an update about my skin, then the products I'm using and last what I'm in the market for!
Before we go forward, I am not a dermatologist, esthetician, or skin care expert. This routine is what works for my normal to dry skin. I recommend these products based on my experience, but if you are unsure on products, you should do your own research or contact a professional for assistance on your skin.
Affiliate links ahead, I make commissions on these links at no extra cost to you.
About My Skin
As I mentioned in my winter skincare post, I've always been one of those people with decent skin. For the longest time my only skincare was some off-brand "morning hydration" face and body lotion and baby wash. And micellar water to take off makeup, when I remembered. And with that, I only ever had at most a couple pimples or a few light bumps.
A couple years ago, the universe played an uno reverse card on me and took away my simple, easy skin. Replaced it with sweaty, oily skin summers and dry, cracking winters. I did the bare minimum to care for my skin, mostly just addressing things as they came up, instead of preventing the problems. Summer 2020, I started the process, washing my face more frequently, moisturizing regularly and wearing *le gasp* sunscreen! I aimed for moisture and glowy. Sweaty, but make it fashion, right? Then last winter, we shifted gears into a real skincare routine, adding more products to combat some serious dryness.
So here we are, Summer 2021, and what's up next for my skin? Well the theme for the season is still simple, budget friendly, and moisture. And between allergies and sweat, glowy-on-purpose skin is important too. I use a lot of sunscreen every day too, especially because I abused my skin in the sun for so long. Not with tanning, but working outside for many summers with literally zero skin protection. It's taken me a long time to rehab the damage I've done, and there's still some pigmentation and weird texture spots from the sun damage.
Morning Skincare Routine
Once again, mornings, not my strength. I've gotten better about waking up early and having plenty of time for whatever in the mornings. But the universe has blessed me with something new to keep my mornings busy, seasonal allergies! I don't know what is going on with the pine trees this year, but I'm definitely feeling the pollen. So my mornings are mostly taken up by washing my face, eye drops, allergy pills, and sneezing into my tea.
Most days, I'm not going far from my desk, my bed, or my kitchen, thank you Covid, 90° weather, and sweeping pollen clouds. On those days I keep my morning skincare simple, a quick rinse with water, pat dry and follow up with CeraVe AM Facial Moisturizer SPF 30. The CeraVe isn't my favorite, but it does the job. I'll finish the bottle, but I doubt that I'll end up rebuying.
On the rare occasion that I do venture out, I'm still keeping it minimal.. I'm a real sweaty betty, so adding a bunch of layers of anything is just going to be an annoyance to me later. I stick to a glowy-on-purpose simple routine and that's all. I picked out my routine after watching this video from the skincare queen, Charlotte Palermino.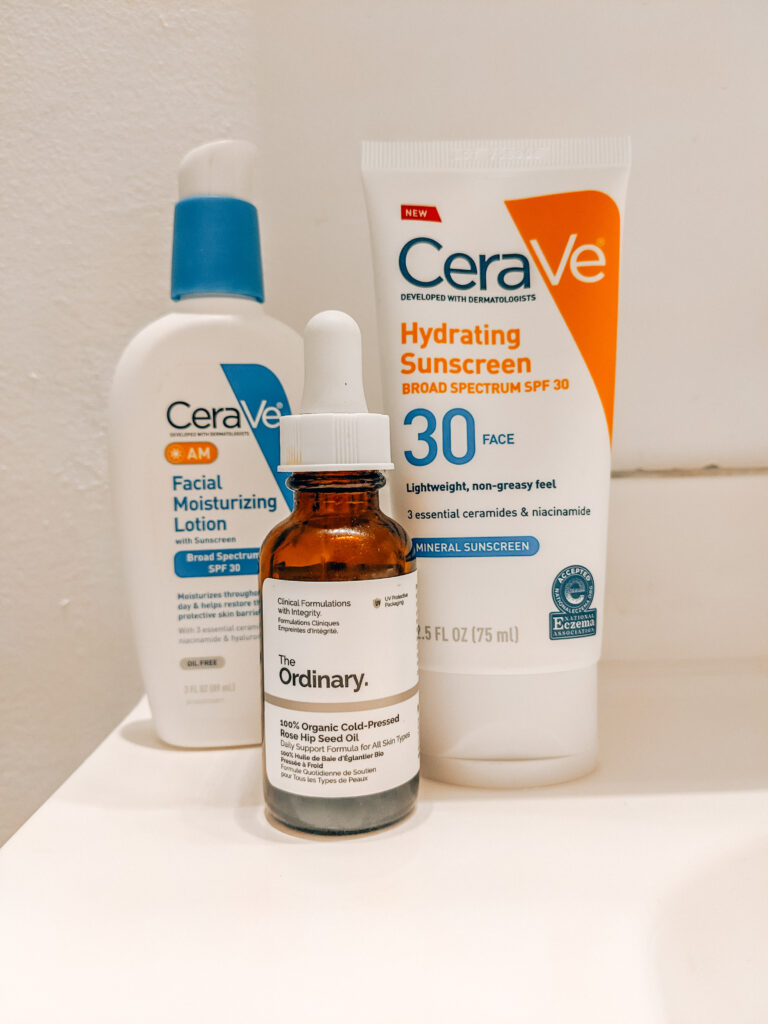 Sometimes I'll pop a fresh coat on with the CeraVe AM Facial Moisturizer SPF 30 or Cetaphil first to refresh the moisturizer. I follow it up with The Ordinary Rosehip Oil on my face and neck, going real wild with 3 drops. I rub it out in my hands and then pat it on. After letting the oil sit for a moment, I'll apply the CeraVe Hydrating Face Lotion SPF 50. I absolutely can't recommend this sunscreen, it gives a terrible white cast, and I'm pretty pale to begin with. I've been on the hunt for a new one with no or less white cast to end my routine with. If I know I'll be outside in the sun, I'll just suck it up and deal with the white residue, but if I'll be inside, I will occasionally use the CeraVe again or just plain sunscreen, neither of which really give you the glowy look.
Nighttime Skincare Routine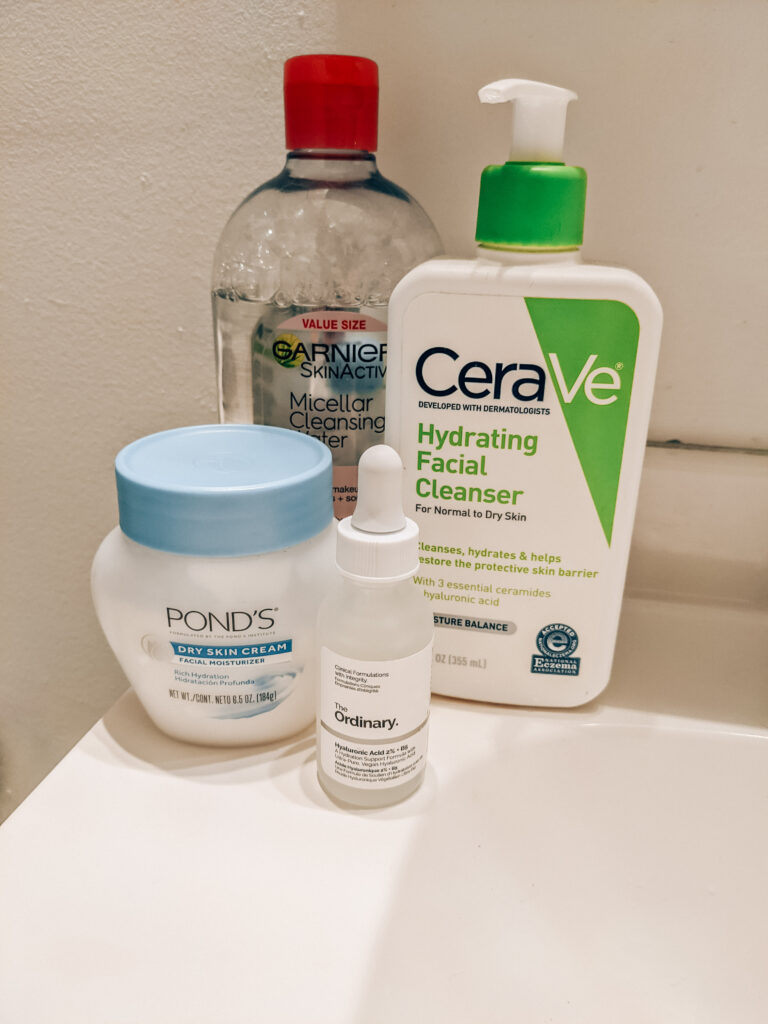 My nighttime summer skincare routine is pretty simple. I'll use the Garnier's Micellar Water with reusable bamboo cotton rounds to remove any remaining sunscreen or makeup.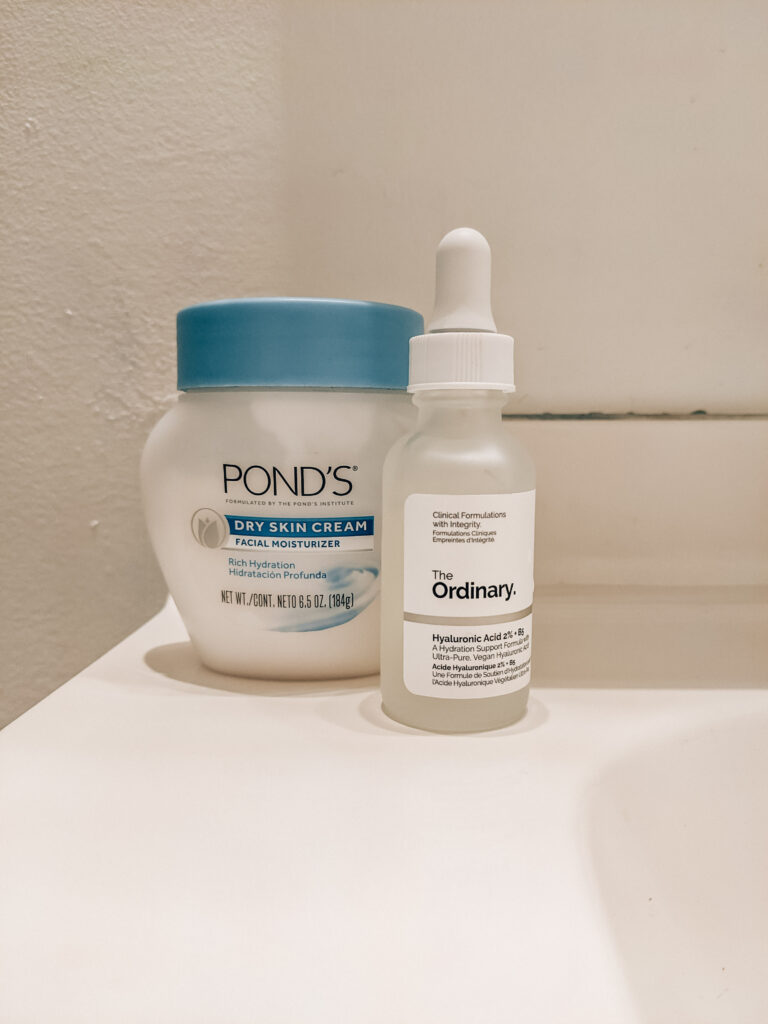 Next I'll rinse with cool water and pat dry after, or some days I'll use the non-forming CeraVe Hydrating Facial Cleanser. After, I'll use The Ordinary Hylauronic Acid 2% with B5. Hyaluronic acid helps replenish moisture in your skin and the B5 prevents moisture loss. This is really important in the winter, but moisture is still key year round. Lastly, closing it up with a nice thick moisturizer like Pond's Dry Skin Cream or Cetaphil on the skin and Aquaphor on my lips.
What I'm Looking to Buy
My summer skincare routine definitely still has room to grow!
Sunscreen
I had a lot of recommendations for amazing sunscreens like Supergoop and Neutrogena Invisible Shield. I was definitely looking for a chemical sunscreen, the mineral leaves too much of a white cast. And finding a budget friendly option is key. Based on my research, I'll likely have to sacrifice some budget to get a good product. For most people, the Neutrogena Invisible Shield would be a great, affordable find, but it doesn't play well with my sensitive skin.
The product I'm considering adding to my summer skincare routine is the La Rochey Posay Clear Skin Dry Touch. It's SPF 60, not a mineral sunscreen, and most reviews say no white cast. It's $19.99 for 1.7oz, which is pretty pricey, but I have some Ulta points available and 3% cashback with Rakuten, so I can make the price a little more budget friendly!
Vitamin C Serum
I'm going to start here, finding a Vitamin C serum is hard! A lot of the top rated products are expensive. Like $40+ for 1 ounce of product. It is a lot of product, given that you're using 1-2 drops per day and it's a good quality product it's a pretty fair price. But still, with some running upwards of $80, Woof.
I did some research and narrowed it down to three options, TruSkin Vitamin C Serum, Maelove Glow Maker, and L'Oréal Revitalift Derm Intensives. All three options are less than $30 each. I'm leaning towards trying the L'Oreal first, mostly because that way I can pop it onto the same Ulta order with the sunscreen and a few other things I need.
---
Let me know if there are any other summer skincare essentials I'm missing in my routine or products I should try out. What's are your summer skincare essentials? Do you keep it budget friendly, or do you splurge on skincare? Let's chat below!
Keep up with what I'm doing on the daily on Instagram, @MoiraTheExplorer and stay in the know by jumping on my monthly email newsletter here, coming soon!