Y'all I'm going to be 25 years old next month. Twenty-freaking-five. Can you believe it? You don't know me, of course you can. I can't believe it though. So much has happened this past year and internally I feel like I've aged a decade between my 24th and 25th birthdays. I mean I moved out, I adopted a dog, my best friend got married, and I started a freaking business! All in a year!
I love birthdays. I mean I love my birthday the most, but just birthdays in general. I love giving gifts, celebrating, popping the champagne, baking a cake (more eating than baking it tbh). And just like anyone else, love to get gifts. And I am, in my own words, the pickiest person I know, so I still make myself a birthday list every single year. It's an open list for everyone in my family, whoever wants it can see it. It works, everyone's happy, and whenever someone asks me what I want, I'll never actually forget the things I wanted.
Picking what I wanted this year was pretty tough. With everything that's gone on, I just wanted to go out and explore and live. I'm going on two road trips with my SO this summer, both to visit family and to take some time off work. We're taking more time out and about, spending slow mornings getting brunch, taking Levi with us for coffee. And we're building up our house, taking it from house to home. Most of what I really want this year is vacation, peace, and the simple joys. But that's hard to ask for for a birthday. So other than those highly non-corporeal things, here is what I have on my 25th birthday wishlist.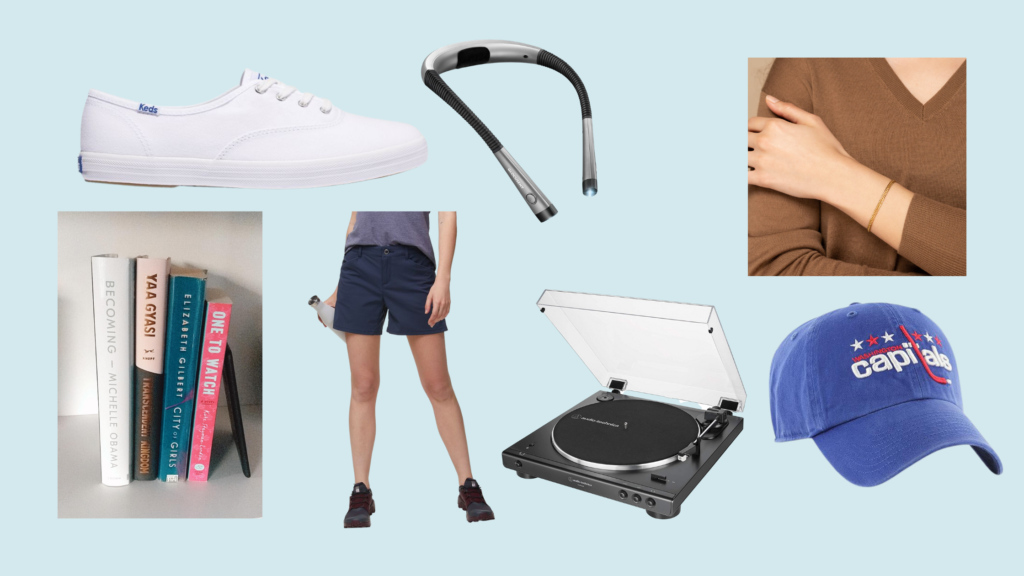 White Keds Champion ($50) // LED Reading Light ($20) // Double Curb Chain Bracelet ($70) // Books // Patagonia Quandary 5″ Short ($60) // AT Wireless Turntable ($150) // Washington Capitals Hat ($25)
LED Reading Neck Light
Is this the ugliest thing I've asked for ever? Possibly. Is this the most useful item I've asked for? Almost definitely. I love reading in bed but have yet to find a bedside table lamp that I don't utterly loathe or bulbs that don't shine like the actual sun. With this LED Reading Neck Light I can sit up and read as late as I want without keeping Cody or Levi up all night with me!
Patagonia Quandary 5" Shorts
I would absolutely not call myself a hiker, but Cody and I have really taken to hiking after our last couple of trips to the Poconos. We had a ton of fun, love the exercise, and the views are stunning. We're looking forward to taking a few new hikes with Levi this summer, but ya girl is not prepared. It's not nearly as hot there in the summer as it is here, but it's still a bit much to be hiking with long leggings. Having a good pair of hiking/walking shorts is a must have and I'm loving the Patagonia Quandary 5″ Shorts!
Record Player
I have a couple of records already, but no record player! I had gotten one for Christmas, but it, unfortunately, had a little damage to it. Now take two, I'm dying to get a record player and start stepping up my record collection! My parents have this Audio Technica player, and I couldn't imagine having anything better. The quality is great, we'll connect it to a Bluetooth speaker, and set it right up in the living room.
Books
Hear me out, I know it's vague. There are a ton of books that I've had on my TBR list that I'm dying to read. I don't know which ones I want the most. Really, anything from the top of the TBR is good. Anything similar to the top of the TBR is a safe pick really. Or a gift card to the local bookstore, Amazon, Barnes & Noble, any of it. Books are always good. Love books.
Mejuri Double Curb Chain Bracelet
I love Mejuri jewelry so much. They're always on my wishlist and this bracelet is definitely a want. I've been working on building out a jewelry collection after not wearing any for years. I love pieces that are less delicate looking, and I love gold. Any curb chain accessories, love them. This super cute double curb chain bracelet is definitely on the list. 
White Sneakers
I love sneakers in general. They're such great go-to shoes and white sneakers are my number 1 summer must-have. If it's not Sperry's, it's white sneaks. Early last spring, I bought these from Old Navy when they were on sale for $5. They were great, but they've hit the point of no return, thanks to Levi's muddy paws. I'm willing to relegate these now greige dirty sneaks to road tripping, Home Depot runs, and dog walking at 6:45am.I was going to buy a new pair myself, but hey, birthday, why not have someone else buy them?? I truly couldn't pick one, but narrowed it down to two shoes, SuperGa Cotu Sneaker and Ked's Champion. I'm leaning towards the Keds, but could go either way!
Washington Capitals Hat
The one thing that's kept my brain in check over the past year(ish) has been getting more into sports. I"m not the world's greatest sports fan, like don't ask me any details, but I just enjoy watching football, baseball, hockey, honestly whatever at this point. I like to keep a few merch items around, supporting my Washington teams. I have a couple things for the Nationals, but none for my Caps! Making this new Capitals hat a must-have. I'm a big baseball hat person too, so adding another good hat to my collection is 100% necessary. 
---
I'm really excited to see what 25 brings and I'm looking forward to the big plans we have for this year!